Freelance jobs are the new normal in the professional market nowadays and with good reasons too. Who wouldn't like to be their own boss and work with a flexible schedule? Freelancers can not only work with individuals but various companies, startups, and small businesses also hire freelancers for different positions.
The upcoming years ahead look promising for the freelancing industry. Numerous full-time employees are switching to freelance jobs in order to achieve work-life balance.
According to a survey report, there are more than 15 million freelancers in India and are expected to grow more in the coming years. And that's enough reason to believe in the rise of freelance jobs in India.
Although it is a belief that freelancing is mostly opted for by students or as a side income source, post-pandemic has introduced freelance jobs as a full-time career option too. It is especially an ideal option for women who want to work simultaneously handling their personal life.
Flexible working conditions are not the only positive point of the freelancing business, it is considered to be a high-paying occupation too. There are various services one could provide as per their expertise and earn accordingly. You can enter the freelancing industry on a full-time, part-time, or project basis.
Wondering what are the highest paying jobs for women in India? Let's look at a few options that you can choose as a woman.
Top 5 highest paying freelance jobs for women in India
1. Content or copywriting
Content writing or copywriting is one of the most common freelance jobs that you can go for. And not because it is easy or something like that but the popular demand for web content in today's digital world might be the reason behind it. As a content writer, you will create content like blog posts, articles, whitepapers, website content, email copies, product description, social media posts, etc.
So if you are someone who has a knack for writing and playing creatively with words do try this freelance job. The important skills you will need for this particular job are writing, communication, research skills, SEO knowledge, editing, content structuring, etc.
To start as a complete beginner you can opt for any certification course offered online on both paid and free basis. This way you will be introduced to the concept formally and know what to deliver and what to expect.
The average income of a freelance content writer in India is Rs. 3,00, 000 annually. (Source - Ambition box) Check this article to know how to start your career as a freelancer content writer?
2. Social media manager
You must already be aware of how social media is important for everyone on different levels. Different social media sites are used by companies and startups to promote their product and services, connect with their target customer, lead generation, etc.
As a freelance social media manager or specialist, you will handle the account or more than one account of the company or individual that hired you. The duties a social media manager handles are uploading a post on different social media accounts, replying to comments and queries of the customer, planning strategies, etc.
Your clients will also expect you to give them extra advice on what should be and should not be done. It is a fun and creative freelance job which will need you to be up-to-date with new trends.
If you are a total beginner get yourself familiar with the ropes of social media management and enroll in some course that could teach you.
In India as a freelance social media manager you can earn an average income of Rs. 4, 94,762 annually.
(Source: Glassdoor)
3. Digital marketing consultant
As the name denotes digital marketing is a kind of marketing that is done online using the internet. It is the way companies and individuals use to connect with their target customers digitally to market their products and services. A freelance digital marketer is someone who will help the business boost its online visibility and increase sales by generating the lead. They research the customer and market, gather and store data, and plan strategies. As a digital marketing consultant, you will divulge yourself into activities like email marketing, SEO, social media marketing, content marketing, and digital advertisement. Most startups and small businesses hire for this freelance job option, but if you want to widen your scope do try the different platforms created for freelancing opportunities namely, Upwork, Fiverr, freelancer, etc.
The average income of a freelance digital marketer is Rs. 6, 37,742 per year.
(Source: Ambition Box)
4. Web developer
If you are someone who is from the IT industry and want to enter the freelancing industry on that basis only then being a web developer will be the best choice. Companies are inclining towards digitalization with changing dynamics and the demand for web developers is taking off. The job of a web developer is to design, create and manage the website. With skills like Java, Python, PHP, JavaScript, etc. you can score high-paying clients as a freelancer. You can opt for this freelance job even if you are new to this tech stuff. Just make sure to learn in and out of the programming language you are going to provide service from. There are many certification courses present for you to learn from.
The average income of a freelance web developer in India is Rs. 3,40,000 annually.
(Source: Ambition Box)
5. Accountant
An accountant is one of the highest-paying freelance jobs in India. As a freelance accountant the main responsibilities you will be performing are maintaining money and transaction records, managing ledger accounts, preparing balance sheets, budgeting, etc. To become an accountant you will need to at least have a bachelor's degree and knowledge of accountancy. Again you can choose to work for companies or different individual clients.
The average income of a freelance accountant in India is Rs. 30,750 per month.
(Source: Glassdoor)
Conclusion
Freelance jobs allow you to work remotely either from home or any working space and that's why this option is highly recommended for women who want to make their career without leaving their house responsibilities. Students also prefer to make some extra cash with these freelance jobs. It doesn't matter if you are a beginner or a pro, freelancing takes time and patience to grow.
Are you ready to apply for your desired freelance job? Apply with QWEEN now! We at QWEEN provide work-from-home and flexible work opportunities to women. Just sign up and start applying for the jobs of your interest. Check out all the active jobs
Here's a big surprise for QWEEN's Community!!
An exclusive invite for QWEEN's community to join Breaking Barriers - an annual in-person TEDxSalon event that focuses the spotlight on dazzling ideas from some of the world's most extraordinary women!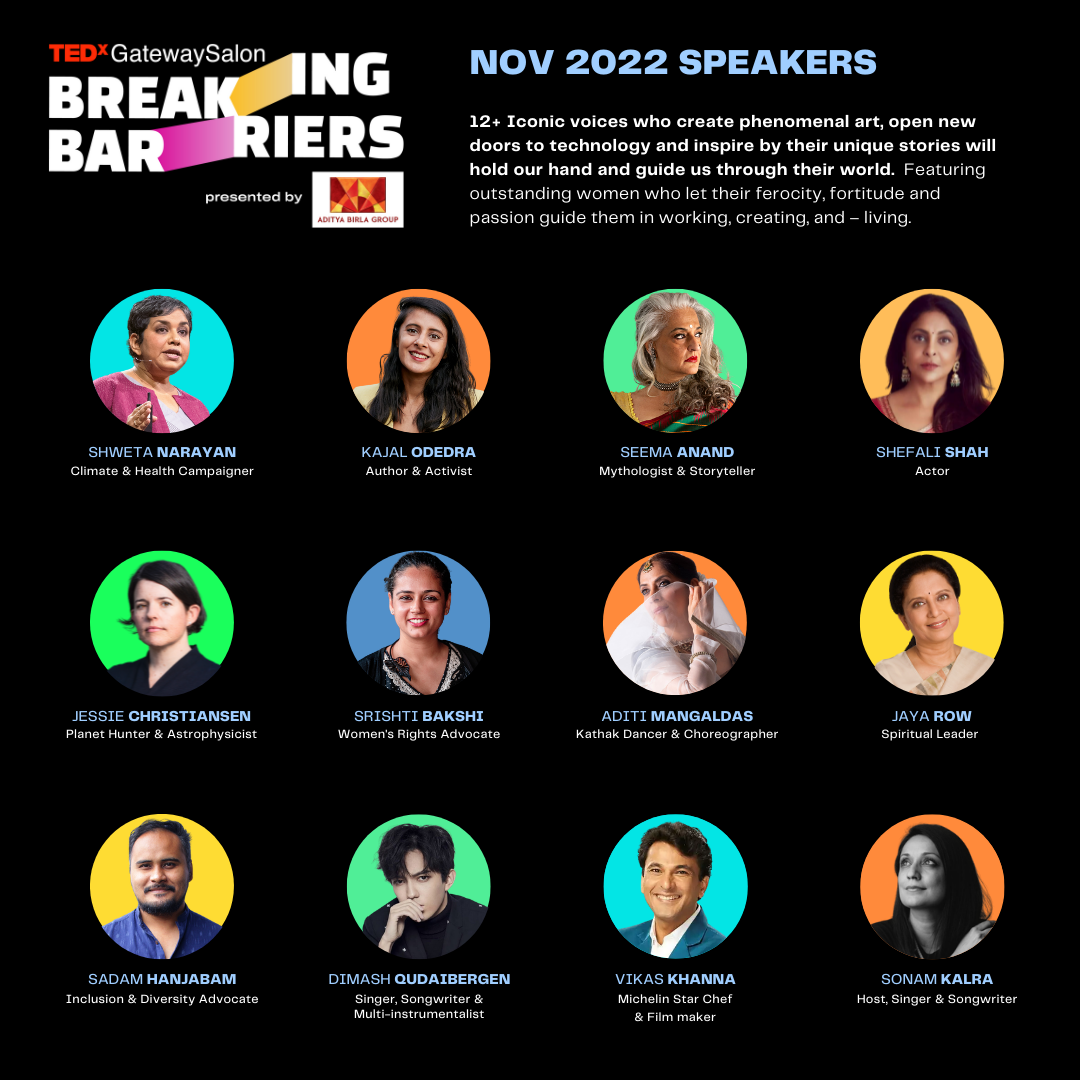 This event will elevate the ideas of people connecting across generations, inspire with personal stories, ignite conversations and uplift our spirits.
Join the event on 18th November 2022 at NCPA Mumbai to witness 12+ iconic voices share stories & ideas that are breaking barriers and building a brave new world.
Exclusive Discounts to all Qween Community Members - Use the discount code "QWEEN50" for a whopping 50% off!!!
Here's an additional bonus - Buy 2 passes and the 3rd one is on us!!
Register here - https://bit.ly/tedxgatewaysalon_website_register
---
Other Related Articles