Did you take a career break? And now it's making you anxious? Well, there is no need to fret.
We all take a career break in our life at some or other point. Sometimes just to rejuvenate ourselves, and other times to attend to more important matters like Maternity leave.
But the point is still the same, taking a career gap is not something out of earth thing. It's quite a general talk nowadays, as people are more open with their choices and make decisions regarding their betterment and health.
And after the reason behind the career break has been accomplished, most of us want to bounce back and restart our careers.
But the thought of returning back after stepping away from a career can be daunting and the process will need patience and determination from your end.
Thankfully, many companies offer a return to work or Returnship programs for those who want to get back to work after their career gap.
These programs are designed to provide some mentorship and help you ease back into your career effortlessly.
So if you are someone who wants to restart their career after a gap and looking for returnship programs to make your work easier, then follow through with this article.
First, let's introduce ourselves with a few basic things.
What are returnship programs?
As the name suggests, the returnship programs are sort of an internship designed for adults who have taken a career break for a specific period and now want to return to work. With the help of these programs you don't have to start your career from scratch again, you can restart your career.
A returnship program can last for a few weeks to a few months depending on the policies of the company. These programs help the returning person get acquainted and reintroduced to the work, along with getting training to enhance and polish their skills. You might even get hired for full-time roles after completion of these programs as per your learning abilities and performance.
And the best part? You can get paid too!
5 COMPANIES OFFERING RETURN TO WORK PROGRAMS IN 2022
1. Accenture
Accenture is an information technology and consulting company with branches all around the world. Right now Accenture is providing two return-to-work programs, one being the technology returnship program. Here, they offer a 16-week paid returnship for professionals who are experienced in technology-centered work. You will also learn new things along with polishing your existing skills. And if your performance is good then you can have a full-time job in your bag too.
The second program is called career reboot for women. With this program, they are allowing the women who are returning after a career break to connect with industry leaders and companies who are hiring.
With these programs, they want to support their employee's personal and professional goals.
2. IBM
IBM is an information technology corporation that operates in about 171 countries globally. IBM is also offering a return to work program named, Tech Re-entry program which is specifically created for experienced professionals who stepped back from their careers and now want to re-join the workforce.
The returnship is fully paid and enables you to re-learn skills with the help of a mentor, different learning programs, on-the-job projects, the latest technologies, and an incorporative team.
The program is made for professionals who have taken a break for two years. Here also you can get yourself hired after completion of the program.
3. PayPal
PayPal is an online platform that is created to make an online payment and is an easy way of receiving or sending money internationally. PayPal has also introduced a return to work program which is called PayPal Recharge. This program is for the skilled technical professionals who have taken a gap for personal or professional reasons and now want to return to the workforce.
You can join the recharge program in two ways, first by participating in a boot camp and secondly by joining a 6-week paid program.
This program allows you to grow your technological skills and expand your network by interacting with others. This program focused on supporting women returnees. By the end of the program if you are among the top participants then you can also get full-time employment with PayPal.
4. Microsoft
We all know Microsoft is a technology corporation that develops software to make our work easier. Microsoft is offering a 'springboard' as a return to work program. This program is specially designed for women who want to restart their careers. The returnship is offering training to solve complex problems and the mentorship of a manager who will help you in the second innings of your career.
The duration of the program is 16 weeks. The eligibility you have to follow is 6 months of minimum break and 4 years of minimum working experience.
5. Amazon
Ok, we don't have to introduce you to Amazon, it must be your go-to choice while online shopping. Amazon is offering a 16-week paid returnship program. The best part is that you can do it virtually too. Through this program, you will get familiar with the work environment of Amazon. You will get training, mentorships, and projects to learn and bounce back in your career effortlessly. You will have the opportunity to network with like-minded people by attending different events, and workshops and joining an affinity group.
WRAPPING UP
With companies understanding the necessity of taking a career break and providing these flexible solutions in the form of return to work programs, we can say that the second chance in a career is not that difficult.
By entering these programs, taking training, getting help from a mentor, and most cases getting paid, anyone can ease back into their career confidently. All you need is patience and grit.
So without wasting any more time go and get back to work!
But if you are someone who is looking for a job after a break? That too work from home jobs, then Qween can help you. We have many jobs available for you. Just sign up and start applying.
Here's a big surprise for QWEEN's Community!!
An exclusive invite for QWEEN's community to join Breaking Barriers - an annual in-person TEDxSalon event that focuses the spotlight on dazzling ideas from some of the world's most extraordinary women!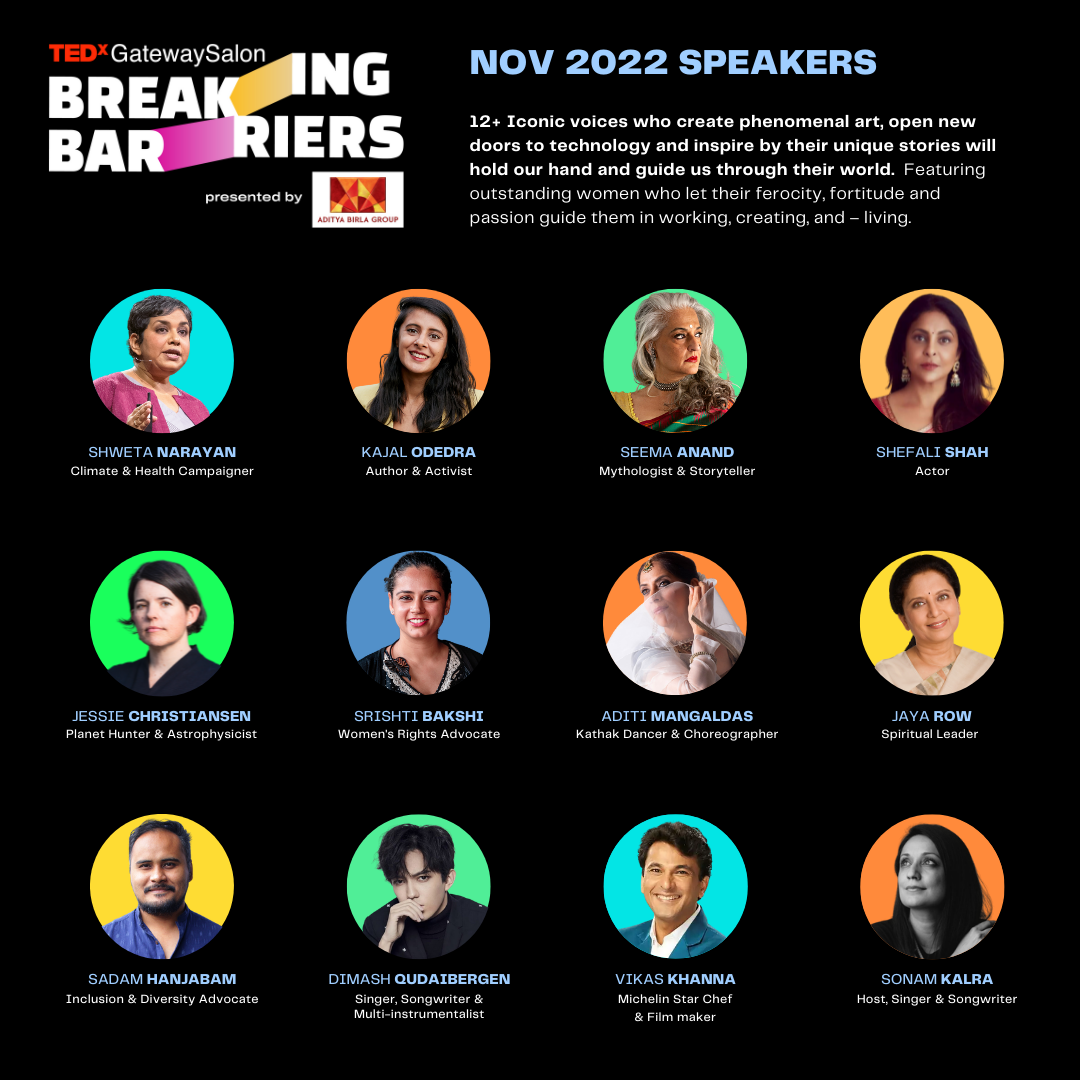 This event will elevate the ideas of people connecting across generations, inspire with personal stories, ignite conversations and uplift our spirits.
Join the event on 18th November 2022 at NCPA Mumbai to witness 12+ iconic voices share stories & ideas that are breaking barriers and building a brave new world.
Exclusive Discounts to all Qween Community Members - Use the discount code "QWEEN50" for a whopping 50% off!!!
Here's an additional bonus - Buy 2 passes and the 3rd one is on us!!
Register here - https://bit.ly/tedxgatewaysalon_website_register
---
Other Related Articles